powerschool:powerschool:returningenrollment
This is an old revision of the document!
---
How to Create a Returning Enrollment
AS OF 8/9/2017, WE NO LONGER NEEDED TO RECORD SEPARATE ENROLLMENTS FOR HOMEBOUND/HOMEBASED TRANSFERS. MERELY MARK THE ATTENDANCE PAGE FOR THE DATES THE STUDENT IS IN HMB OR HBS
HOWEVER, as of 8/8/2018, WE UNFORTUNATELY NEED TO RETURN TO THE PROCESS OF CREATING A NEW ENROLLMENT FOR EACH HOMEBOUND/HOMEBASED TRANSFER with the new accreditation calculations.

If a student returns to School from Homebound/Homebased, you must create a new line of enrollment.
For Homebound:

Locate the student in PowerSchool

Click on Functions under Enrollment

Select Create New School Enrollment

Set the Exit Date to the return date from Homebound back to school

Select W201 as the Exit Code

Set the Entry Date to the return date from Homebound back into school (same as Exit Date above)

Select R216 as the Entry Code

Type Exiting Homebound as the Comment

Remove the Serving Division to set the default value

Remove the Serving School to set the default value

Click Submit
Once completed, the returning Homebound current enrollment should be similar to this entry.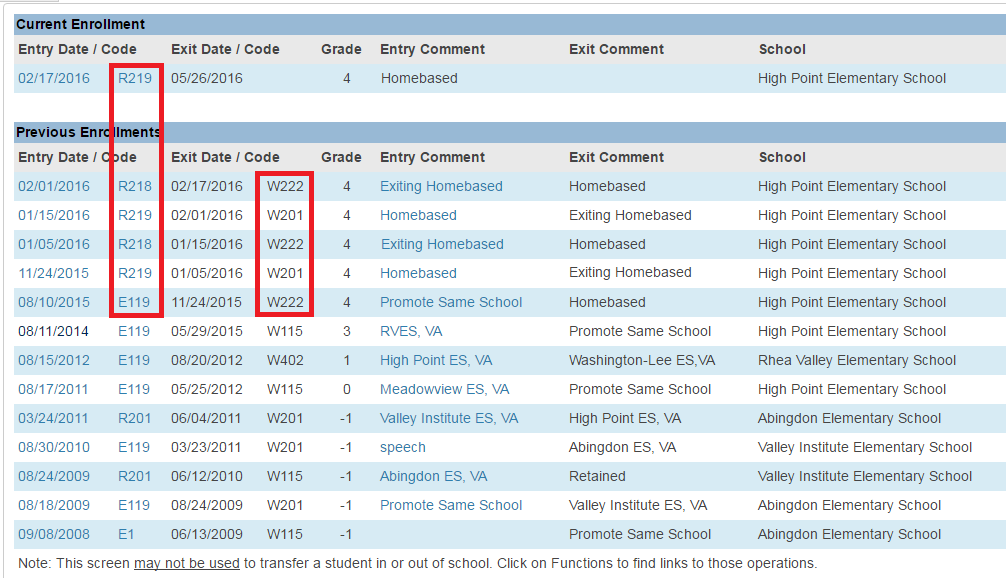 powerschool/powerschool/returningenrollment.1531827442.txt.gz · Last modified: 2018/07/17 07:37 by lokes