powerschool:powerschool:perfectattendance
Table of Contents
Perfect Attendance Search and Certificates
To Run Perfect Attendance:
Option 1
Select All from the Start page under the Search field

Under Select a function for this group of students, choose Search For Perfect Attendance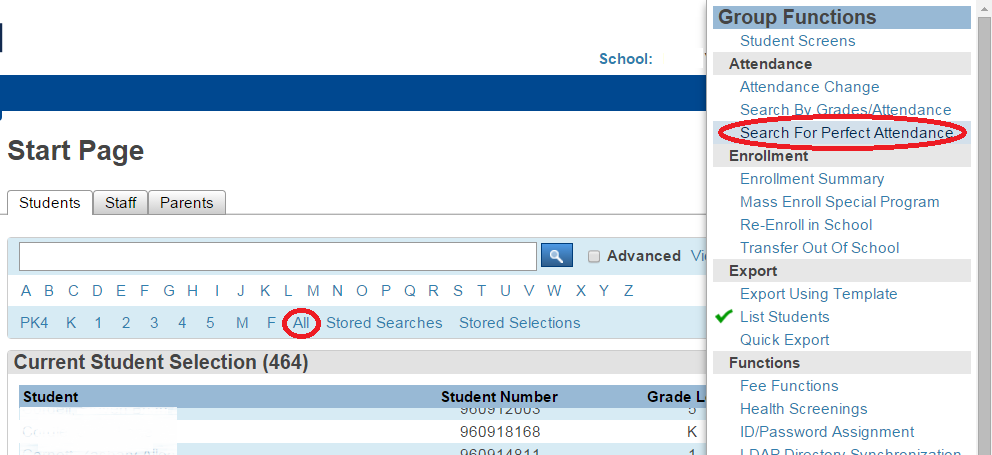 Select Daily as the Attendance mode to use

To run for the year, select the current school year start and the end date for the Date range to scan

To run for a certain quarter, select the previous Quarter start and end dates for the Date range to scan

Example: Select 8/11/2014 - 10/13/2014

Enter the school specific list of Attendance codes in Disregard these codes when searching.

Example: ACT,ISS,NBS,PAS,TDY,UTD,DSM,UDS

Note: Remove any spaces between the commas and the codes.

Click Submit

If you would like to print perfect attendance certificates, choose Print Reports

For Which report would you like to print?, choose Perfect Attendance Certificate

For In what order?, choose the sort order you prefer

Example: By period 8 class, as of this date 05/06/2016 to sort for elementary homeroom

Click Submit

Option 2
As with the Excellent Attendance List and Certificate below, another option is to run the Search by Grades/Attendance report to locate the students with Zero Absent Codes recorded as Daily Attendance. Use these parameters.
Select All from the Start page under the Search field

Under Select a function for this group of students, choose Search By Grades/Attendance

Select The selected XXX students

For the Minimum # of classes needed to meet search criteria type 1-10. Doesn't seem to matter for Daily attendance.

Uncheck the options for Scanning various criteria, and check the box next to Scan for attendance

Select the option to Scan this attendance mode as Daily

To run the report for a specific time period, select the Only scan records in this date range with the school year start and the end date for the Date range to scan

To run for a certain quarter, select the previous Quarter start and end dates for the Date range to scan

Example: Select 8/11/2014 - 10/13/2014

Choose the as of this date option for Today's date

Select the option to Make this the current selection of students. This selection will allow for a quick export of the listed students

Click Submit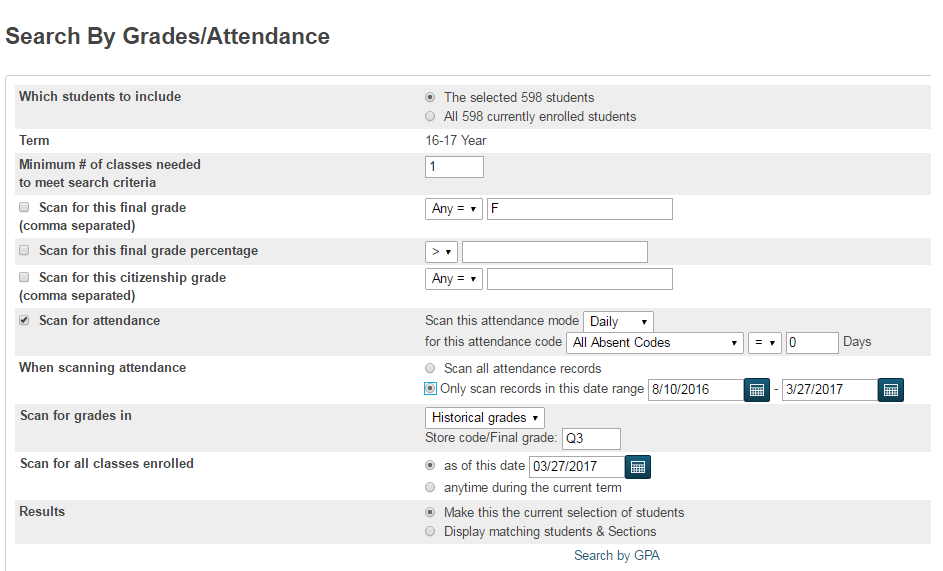 Excellent Attendance
powerschool/powerschool/perfectattendance.txt · Last modified: 2017/03/27 15:48 by lokes