powerschool:powerteacher:pk_standards
Table of Contents
Preschool Standards in PowerTeacher Pro
DRAFT Instructions – please wait and don't print this out, save a forest and view on-line
2017ptprostandards.docx - version 1.0 on 7/31/17
Select Homeroom from the Current Classes list.

Click in the Report Card Comment column corresponding to the student for the current Quarter grade (Q1, Q2, Q3 or Q4).

Type in the individual comment or click on the conversation bubble icon on the top right of the screen.

Click on the Comment Bank at the bottom of the right-hand tools.

Click on the + to add the comment(s) to the text box.

Select the Calculator Icon to return to the original toolset.

Fill down if desired.

Each student will have a blue conversation bubble, in the grade cell to signify a Comment has been added.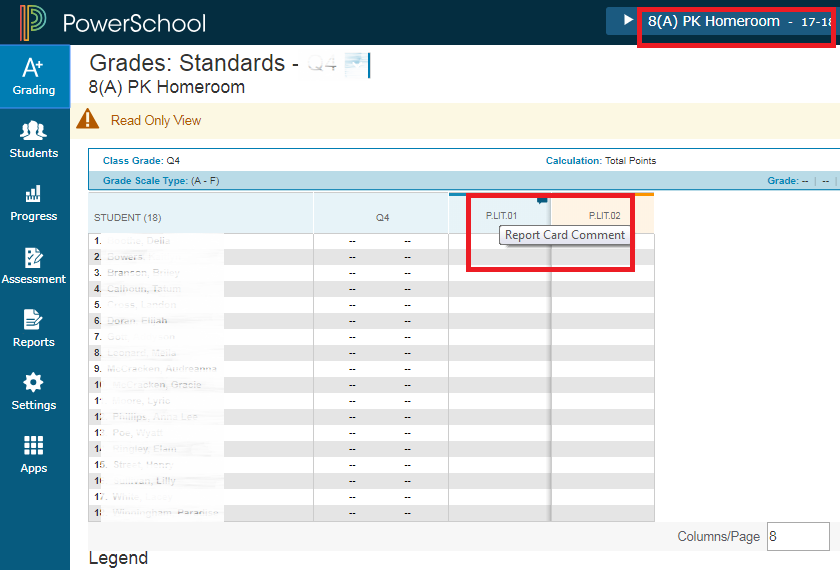 Preschool Progress Report Card
To Proofread a Sample of the Student's Report Card before they are Printed:
Select Reports from the Navigation Menu.

Choose General PreK Report Card 2017-18 from the drop down menu and click Submit.

The report will take a few moments to process. Running will be displayed during the process. When the report is finished, the status will change to Completed.

Click View to display the report.

Use the trashcan icon to dispose of the specific report, if desired.
powerschool/powerteacher/pk_standards.txt · Last modified: 2018/12/19 11:04 by lokes