powerschool:powerteacher:record_attendance
Record Attendance
Teachers and substitutes have the ability to record the meeting attendance with PowerTeacher.

The listed students will all be marked as present.

Only record the attendance for the absent students.

Select from the drop-down menu appearing after the field is selected.
If the class expands over multiple periods, only record the attendance for the first of the periods. Otherwise, the attendance will be duplicated on the attendance count. This count is seen on the report card as meeting attendance.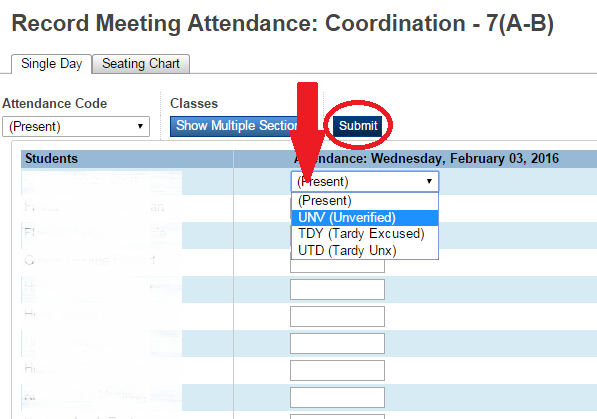 Click Submit to save the attendance codes.

Click on the Seating Chart tab for a pictured roster to help identify the students.

To modify the attendance codes, simply return to the chair icon and adjust the codes.

Remember to click Submit to register the changes.

If a parent note or tardy occurs, the front office has the ability to update the attendance code.
WCCTEC Attendance
High School Attendance Clerks: Coordinate with the attendance clerk, Barbara, at the CTE Center and manually enter each of the CTE student's attendance. Daily Attendance at the Home School will not be recorded if that class does not exist at the High School (their membership school). That's the purpose of the roll call. Either enter absences/tardies/early dismissals directly into Daily Attendance or into a Roll Call class for first period.
powerschool/powerteacher/record_attendance.txt · Last modified: 2019/08/08 12:21 by lokes